Friday, 3 July 2015
Posted by

Nayna Kanabar
at 00:00
No comments:


My Name is Nayna Kanabar and I am a foodie, I love cooking, baking, food photography, travelling, arts and crafts and fueling my obsession of collecting kitchen props for foodie photographs.
Monday, 22 June 2015
print recipe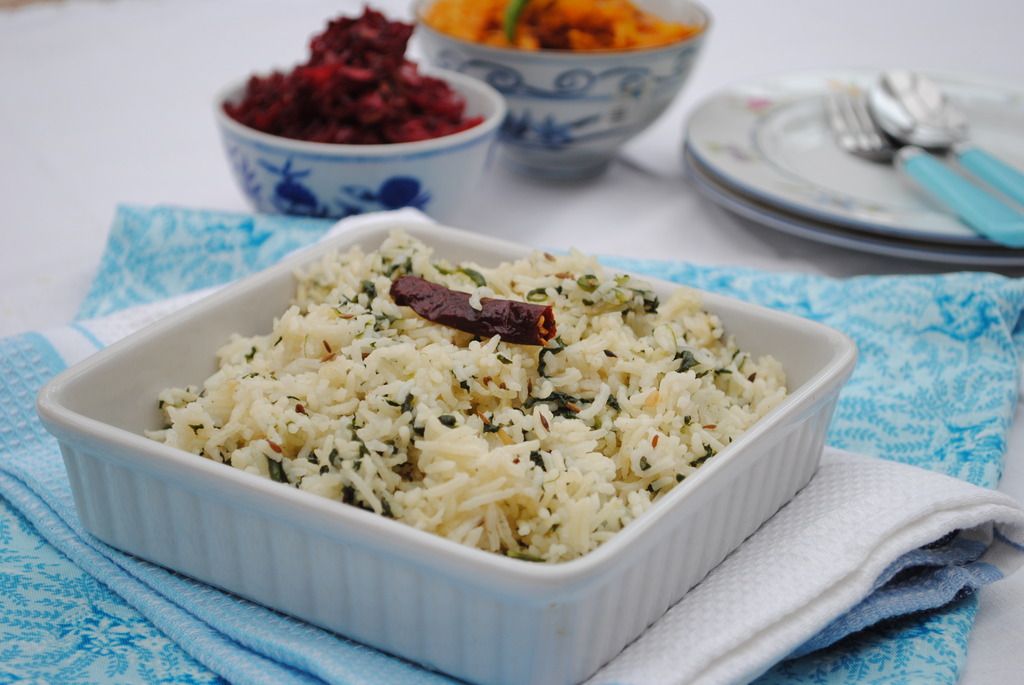 Spinach Pilaf
by
Nayna Kanabar
June-22-2015
Long grains of basmati rice cooked with spinach, spring onion and tempered with cumin seeds.
Ingredients:
240g

Cold boiled rice

90g

Baby spinach

2

Spring Onions

1 tablespoon

Olive oil

1/2 teaspoon

Salt

1 pinch

Turmeric

2

Red dried chilli

1/2 teaspoon

Cumin seeds
Method:
1.Wash the spinach and chop it into very fine ribbons.
2. Finely chop the spring onions both the white and the green parts.
3. In a pan add the oil and wait for it to heat up.Once the oil is hot add the red chillies and cumin seeds and wait fro the cumin seeds to crackle and release flavour.
4. Add the spring onions and finely shredded spinach and saute for 2-3 minutes until the spinach wilts.
5. Add the turmeric and salt to the spinach and mix well.
6. Add the cold boiled rice to the pan and toss the rice and spinach mixture for 4-5 minutes on medium heat until all the rice grains are coated and flavoured with the spinach mixture.
7. Transfer rice to a serving bowl.
Details
Prep time:
Cook time:
Total time:
Yield:

Serves 2
Submitting to:
Lets cook for DAD
event by simplyfood
In my VEG BOX ~Onions
event by citrusspice
Posted by

Nayna Kanabar
at 07:30
25 comments:


My Name is Nayna Kanabar and I am a foodie, I love cooking, baking, food photography, travelling, arts and crafts and fueling my obsession of collecting kitchen props for foodie photographs.
Friday, 19 June 2015
Photo with permission from Joe Blogs
About 18 months ago I purchased my first DSLR camera. I am not a techie person and find even using the remote control on my TV hard at times with all the different settings and menus. I wanted to be able to replace my old and faithful Panasonic lumix which has served me well for a DSLR. I researched the market for an entry level camera that would be not too difficult for me to handle and not cost the earth. I found my new friend the Nikon D3000. Together with the camera I bought a camera bag, a tripod, a 32GB Sandisk memory card, and an extra lens AF Nikkor 50 mm f/1.8D which is brilliant for my food photography. Since attending the photography class I have also bought a remote for my camera.
Over the first 6 months I tried to make friends with my new friend very slowly. I poured over the manual and tried to understand all the settings while I continued to shoot on the auto mode. Slowly I got the confidence to switch to Aperture mode and started playing with depth of focus in my photos. My readers encouraged me by leaving me some lovely comments as to how my photos had started to improve. This was sheer motivation and my next step was to try and use my camera on full manual mode but I did not have the courage in fear that if I changed some setting on my camera and I would not be able to put it back.
Photo used with permission from Joe Blogs.
Luckily Curry's invited me to their lights camera curry's photo class hosted by Paul Hames, an award-winning field photographer with 25 years of experience. I was really excited but at the same time super nervous as I was worried that I would not be able to follow the class due to my lack of photography knowledge. My worries were soon put at ease when I met some familiar faces at the class.
After a lovely brunch of pastries, coffee, fruits and juices we settled down to learn about aperture, ISO, bulb, shutter speed and lights. For my ability some of the information just went above my head but Paul was a great teacher and he patiently went over a lot of technical knowhow.
The three most important things I learnt from the session were:
Shutter speed- this is the time the camera shutter stays open to allow light to get into the camera. A faster shutter speed will freeze movement in a photograph; a slower shutter speed will cause a blur where the movement is.
Aperture- Where the light comes into the camera, Aperture is represented in f-stops. A lower number, like f/1.8, denotes a wider aperture, and a higher number, like f/20, denotes a narrower aperture. If you take a picture with a smaller f stop the background will be more blurred whereas with a wider f stop the background will be clearer.
ISO- ISO is the level of sensitivity of your camera to available light. The lower the ISO number, the less sensitive it is to the light, while a higher ISO number increases the sensitivity of your camera. This means that when there is lots of light use a low ISO and where there is limited light use a larger ISO

This useful hand out from Paul summarizes some of the key points.


Photo used with permission from Joe Blogs
Some other useful tips I took note of from the talk were:
Invest in a memory card with a large storage.

Auto adjust your focus on your camera.

Shoot from the hip.

Shoot into the sun.

Over expose, this sounds strange but sometimes it enhances a photo.

Shoot through long grass.

Make use of reflections and shadows.

Less is more.

Fill the frame.

Be brave.

Blinking hell -take a few of the same shots you can always photoshop two pictures to make one.

Happy accidents, sometimes you just get that perfect capture from an accident.

Shoot in colour then convert to black and white.

RAW files are better than jpeg for quality.

Save photos as psd (photoshop document) or tiff (tagged image file format)as jpeg loses quality over time.

Use tripod whenever possible.

Buy a remote control for your camera; it's a handy gadget to have.

Rule of thirds.

Be adventurous.
With the talk over it was time to put all the theory into practice. Our group headed over to Granary Square and the King's Cross Pond to take some photos and practice what we had learnt. There were lots of opportunities to take pictures of the canal, canal boats, railway, fountains, Kings cross outdoor pool and pond club.
Taking photography seriously, everyone in action some more chilled than others!!
I am not sure I have achieved
everything
that I was taught, but below are my attempts at putting into action some of the things I had learnt at the class. (Serious photography experts please don't judge!)I am sure I am going to need lots and lots of practice but at least I feel a little more confident to shoot on manual mode now.
Here I am trying to use the rules of thirds in my photos.
Here I have attempted to use over exposure.
Here I have tried taking the photo using less light to give it a dark feel.


Here I have tried to shoot close up of the plants to show more detail.
I would like to thank Currys and Canon for inviting me to this wonderful class and I would also like to thank Paul for helping me to understand my camera a little better.I have a very long way to go but this is a pleasing start for me.
Any photos supplied by Joe Blogs have been clearly credited. All other photography is copyright of citrusspiceuk
You can read more about our class here:
http://techtalk.currys.co.uk/photography/lightscameracurrys-with-canon/
Posted by

Nayna Kanabar
at 19:21
20 comments:


My Name is Nayna Kanabar and I am a foodie, I love cooking, baking, food photography, travelling, arts and crafts and fueling my obsession of collecting kitchen props for foodie photographs.